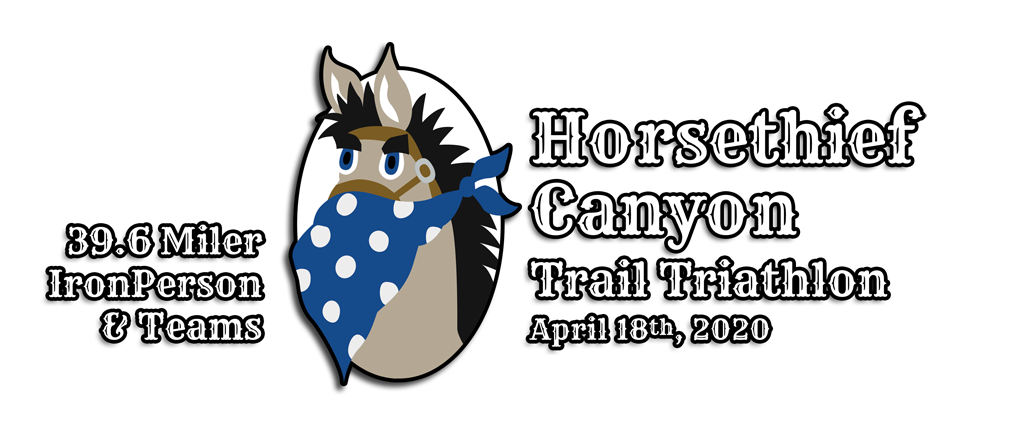 COVID-19 and Quarantine
Health and safety are important, and as of right now we are suggesting to follow the guidelines for self-quarantine put forth by California. We hope to see you all when this is over, but we are taking this all in a week by week basis and will be unable to have the Horsethief Canyon Trail Triathlon at this time. Thank you to everyone who had signed up, we will do our best to notify you all when events open back up we are able to get it rescheduled.
Please stay safe and stay aware of what we can all do to help everyone stay safe together. Thank you.
-----REGISTRATION CLOSED-----
The Course
All 3 legs of the race course are the same. It is a wide fire road 6.6 miles out before turning around and heading back the same way you came, for a total of 13.2 miles. The first leg will be horse riding, followed by running, then mountain biking. There are some awesome hills and great views.
The fire road is very wide, and not very technical, footing will be good no matter what the weather brings. Aid stations will be plentiful along the course for athletes, and water and hay will be available for horses as well. A volunteer will be taking numbers at the turnaround to verify you made it
This race course is located in the Pine Creek Wilderness with permissions granted by the U.S.F.S. so be sure to respect the course and the surrounding lands.
Camping
For Friday night, you are welcome to camp on a private ranch where porta potties and potable water are available. The ranch is also the parking area for race day, and post-race activities - you will already be there! Corrals are available for horses also. You can sleep in your car, a tent , or your horsetrailer. Please call the race director if you are contemplating another option.
This year camping fees are waived! We want to make everyone feel welcome so be sure to plan ahead and avoid the race morning rush!
Camp will open at noon the day prior to the race.
Details
Date: 04/18/20
Camp Location: 22010 Lyons Valley Rd,  Alpine, CA 91901
Start Location: Horsethief Canyon Trailhead
Start Time: 7:30 am Pacific
Course type: Fire Road
Other Details:
3 legs to course: Horse riding, Running, and Biking
Camping opens day before race at noon
Prices
39.6 Miler Relay (team) - $240

39.6 Miler Ironperson (solo) - $120
Photos From 2018 Horsethief Canyon Trail Triathlon
This event is being sanctioned and held with permissions from: