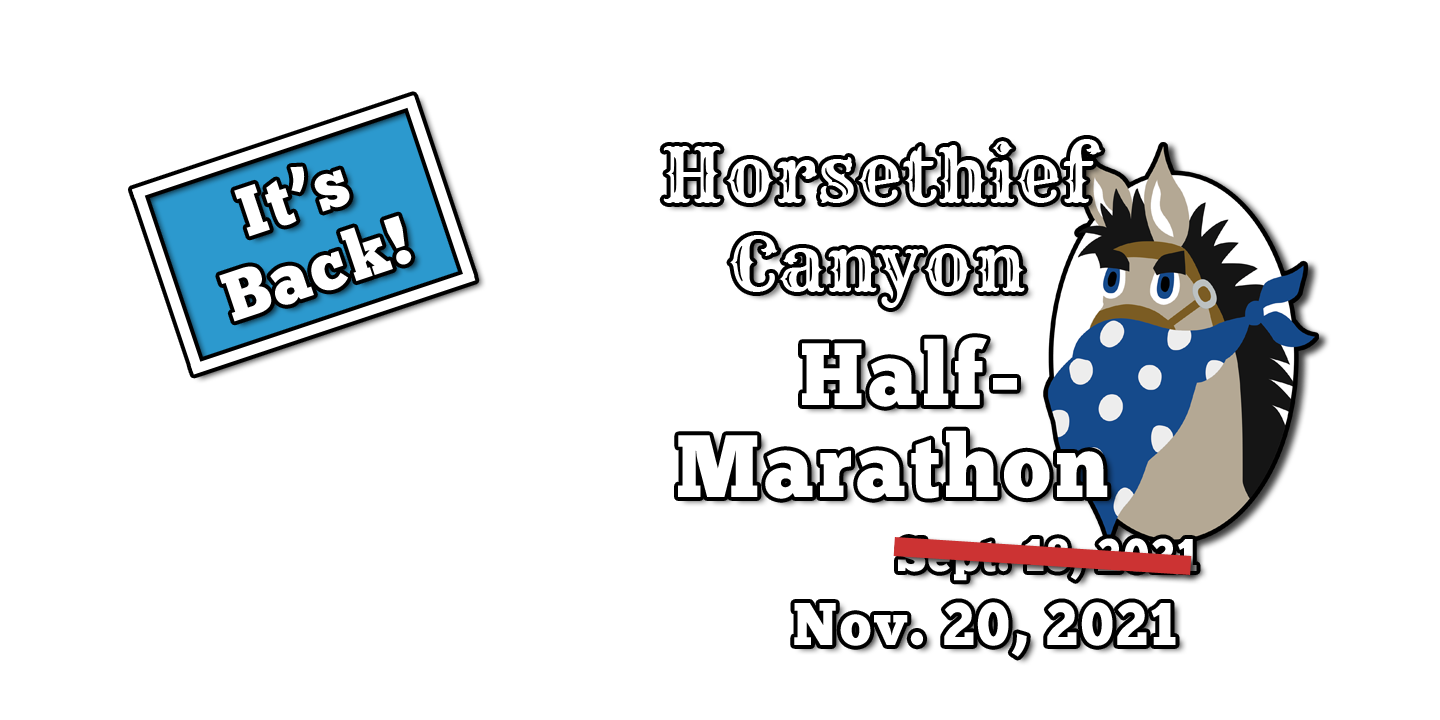 What a beautifully warm and sunny race day!
Another big THANK YOU to the participants and all the volunteers who came out
to make the 2021 Horsethief Half Marathon a huge success!
Our participants were having a blast and running across mountains,
and times are great but fun is the focus!
Thank you all!!
Half Marathon Race Results as PDF - November 20th 2021 Horsethief Canyon Half Marathon Race Results 

All event photos available to View and Download HERE
Our return to Horsethief!
It's that time! We're returning to Horsethief Canyon with a Half Marathon!
Thank you for your patience with Forestry's fire security race postponement. The decision to close forestry services during peak fire months makes sense, Horsethief was the site of a fire last year even. But now with the reopening at the end of November we'll be ready to start up the Horsethief Half Marathon. Use the extra time to train extra hard and get a new personal best!
The Course
The course is an out-and-back on a dirt Fire Road - mostly uphill until the turnaround then mostly downhill back to the Finish. A great course to come out and run a negative split! The fire road is very wide, and not very technical, footing will be good no matter what the weather brings. A volunteer will be taking numbers at the turnaround to verify you made it
This race course is located in the Pine Creek Wilderness with permissions granted by the U.S.F.S. so be sure to respect the course and the surrounding lands.
Details
Date: 11/20/21
Location:  Horsethief Canyon Trailhead Forest Rte. 16S04, Alpine CA 91901
Start Time: 7:30 am Pacific
Course type: Fire Road
Other Details:
 The first half of race is primarily uphill
Aid stations strategically placed for your success
Be sure to bring your own water holder/bottle for aid stations
Tech tees included with registration
Completion and division award
Price
Registration is ONLY $65
Includes tech tee, division awards, and completion awards!
This event is being sanctioned and held with permissions from:
Horsethief Canyon Half Marathon 2019