 Covid-19 Precautions
Epic Recess will be returning with it's first event of 2021 on Feb. 20! We are still continuing to work with the state and local guidelines to open fun, healthy events as soon as we can. We will be complying with CDC health & safety standards to ensure everyone can come outside and have some fun while staying safe.
Please stay safe and respectful of others as we all do what we can to help everyone stay safe together. Thank you.
The Course
The Ranch to Ranch 5k, 10k, and 15k is an opportunity to run on some private trails between two working ranches in beautiful Japatul Valley.
You will start at the ranch at 22010 Lyons Valley Rd. and proceed on a trail over to Windfall Ranch, making a loop around the property before heading back towards the start/finish line. Most of the course is single track trail. It's not considered a fast course, but definitely a FUN course. It's technical in some areas, with a need for attention spent on footing when you're not looking at the views.
Last year the 15k course was a little short, so this year we have altered the course a bit, adding a loop around Epic Recess Ranch to get the needed distance.
This year we have no contact aid, cup-less aid stations. To promote distance and safety you will need to bring your own water bottle/holder and we will fill it at our aid stations for you. Our aid stations will also have individually wrapped nutritious snacks to keep you energized.
T-Shirts will be handed out with bib pickup, and all completion goodies will be handed out at the finish line.
We will again have a Wannacup coffee truck available at 6:30am for all your early race morning coffee and cocoa needs. They've got the goods!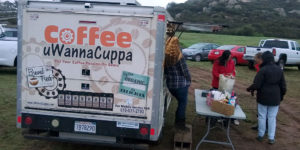 Details
Date: 02/20/21
Location: 22010 Lyons Valley Rd,  Alpine, CA 91901
Start Time: 8 am Pacific
Bib Pickup: 6:30am-7:45am race morning
Course type: Single track trail/ some technical
Other Details:
Be sure to bring your own water holder/bottle for aid stations
No dogs/No strollers
Event will be on rain or shine!